American Artist - Converting a Garage into a Professional Studio
--> News & Views <--
[ enlarge this page ]
[ enlarge this page ]
The garage behind Arthur Egeli's house in Seabrook, Washington, was a perfect structure to convert to a professional studio. It measures 24' x 24', the pathway beside the building connects to the local community, the ceilings are relatively high, and the climate inside remains fairly constant throughout the year. However, the months of work needed to remodel the garage were stressful, especially for an artist who is an active professional and who spends most of his Summers in Provincetown, Massachusetts, teaching and operating a gallery.

"I got a lot of good advice from my father, Cedric Egeli, who has built three art studios from the ground up during the course of his career," Arthur explains. "He, in turn, received advice from his father, Bjorn Egeli (1900 - 1984), on the construction of a professional studio. The most important advice was about the proper way to light a studio, and Ce4dric urged me to locate a north-facing window at least five feet above the ground and as close to the top of the 12 - foot ceiling as possible." The reason to raise the window so high above the studio floor is to eliminate reflections off the ground outside the studio, such as the green of the grass or the gray of the pavement. And maximizing the height of the window brings in as much consistent, cool light during the day as possible.

Egeli was also advised to add a custom-built window because many standard-size windows have energy-saving glass that eliminates some of the available light. "The builder, Doug Hughes, prepared the window casing, and then a glass cutter installed 1/4", clear plate glass," the artist explains. "It is 5' x 8'. with the 8' width causing it to occupy about a third of the north wall of the studio. the remaining two-thirds of the wall offer working areas in which there is a soft, indirect light that is ideal for still life painting and certain desirable effects in a portrait. The space is also perfect for hosting students who can work around a model stand."

Because the large window is relatively close to the ceiling, Egeli had to expose the rafters and trusses and paint them black to minimize the amount of reflected light. He installed a bathroom and clean-up area, and a pair of French doors was built into the south wall to open the studio onto the community pathway. "We located the French doors opposite the new bathroom area to block the flow of light through the doors into the painting area," Egeli explains...
... read more in the pages below...

Click on the images to enlarge each page and read the full, illustrated article.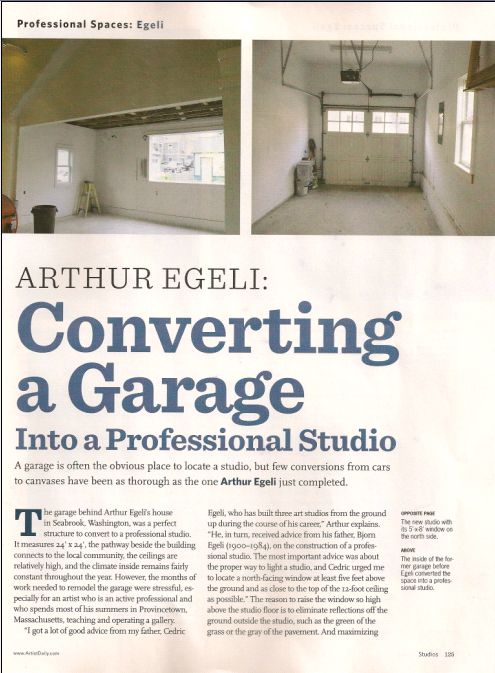 [ enlarge this page ]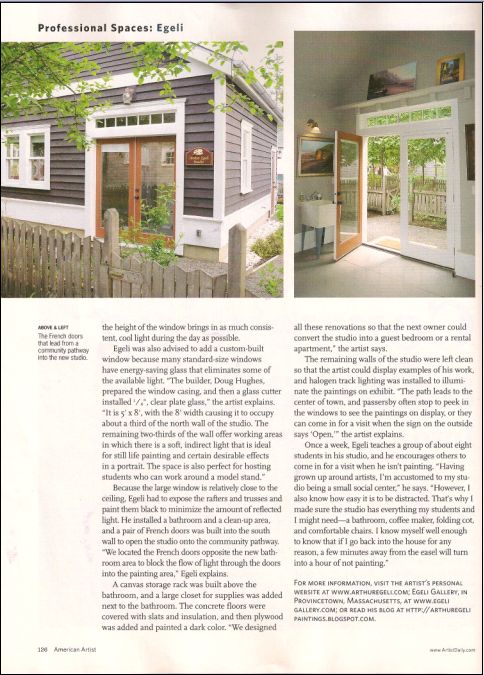 [ enlarge this page ]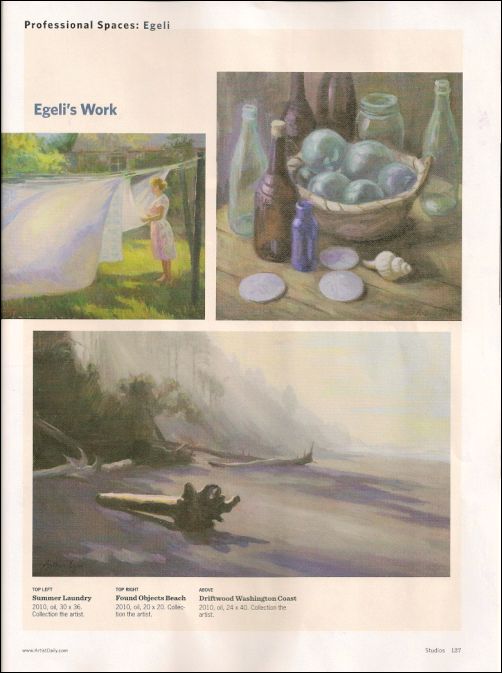 [ enlarge this page ]
--> News & Views <--